This elevated comfort station, camp store, pedestrian deck, and trellis at Salisbury State Reservation serves the wide variety of campground visitors at this state park with beaches along the Atlantic Ocean and the mouth of the Merrimack River. The new permanent seasonal structure is elevated to meet flood requirements and oriented to the primary pedestrian walkway through the campground, leading from the beach to the boat launch. The project reinvigorates the landscape on this windswept coastal site, preserves trees, provides play areas at ground level, and creates an elevated plaza with built-in benches and stepped seating, with a cantilevered trellis overhead. Beyond the naturally ventilated toilet facilities, the design offers individual showers, family restrooms, and ground-level rinse stations.
The design consists of three elements: the unenclosed trellis, the symmetrical comfort station, and the asymmetrical camp store. The material expression of the project springs from materials chosen for their durability in the harsh, salty conditions: decking, steps, and ramps of naturally weathering Ipe wood; textured concrete block with translucent glass block interspersed for illumination without sacrificing privacy; and gently sloping metal roofs supported by glulam beams. The roof over the comfort station's shower zone and the extended roof at the camp store's entry both have a patterned system of Ipe rafters recalling the interwoven framing pieces of the trellis, thus unifying the enclosed and unenclosed structures with simple framing approaches to create a lively texture overhead.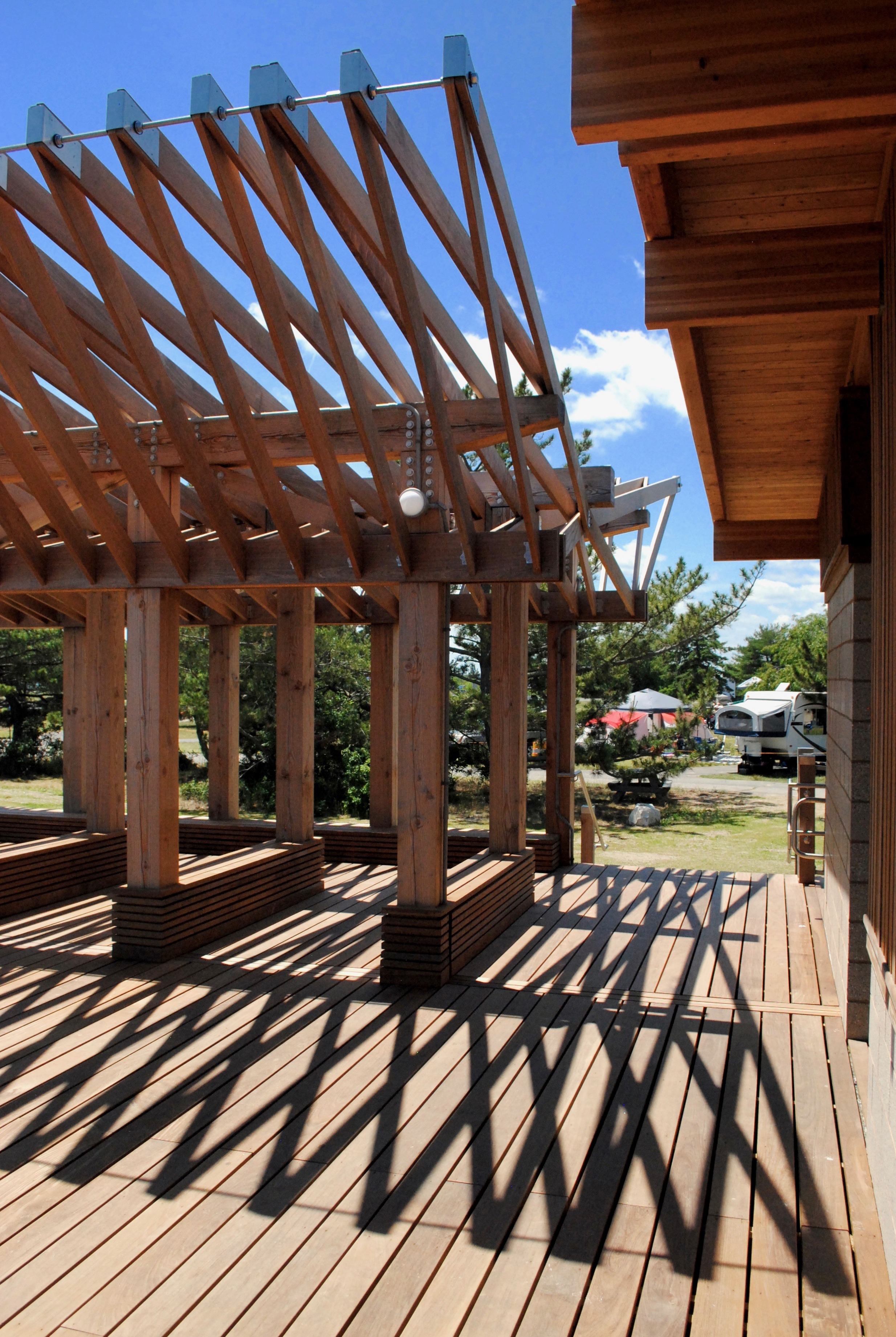 Project Credits
OWNER: Massachusetts Department of Conservation and Recreation, Salisbury Beach, MA
CONTRACTOR: Dagle Electrical Construction Corp.
ARCHITECT: Epstein Joslin Architects, Inc.
Principals-in-Charge: Ray Porfilio and Deborah Epstein (finishes), Project Manager/Architect: David Foxe, Designer: Chimaobi Izeogu
CIVIL ENGINEER: Nitsch Engineering
LANDSCAPE ARCHITECT: Brown Richardson & Rowe, Inc.
STRUCTURAL ENGINEER: Lin Associates, Inc.
ELECTRICAL ENGINEER: Johnson Engineering & Design, Inc.
PLUMBING ENGINEER: James Polando, PE
CODE CONSULTANT: AKF Group
SPECIFICATIONS CONSULTANT: Kalin Associates
Project Data
STATUS: Completed 2018
SIZE: 2,800 sf (building), 2,650 sf (outdoor deck)
COST: $1.8 million